ONKRON VESA Monitor Mount Table / Monitor Arm 1 Monitor Swivel for 13-32 Inch Screens 2-8 kg Min VESA 75x75 Max VESA 100x100 Table Mount G50-B Black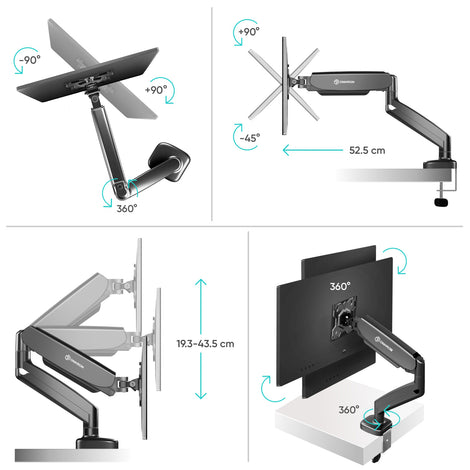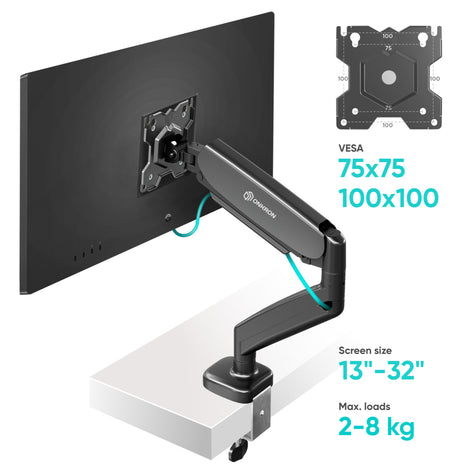 ONKRON VESA Monitor Mount Table / Monitor Arm 1 Monitor Swivel for 13-32 Inch Screens 2-8 kg Min VESA 75x75 Max VESA 100x100 Table Mount G50-B Black
For business
We have a special offer if you are interested in buying G50-B wholesale. Just send form.

🔹 PREMIUM FEATURES: The G50-B Monitor Table Mount is a unique solution in the market that allows you to mount a screen with a diagonal size of 13-32 inches. It is a universal table mount for monitors suitable for screens with VESA hole patterns ranging from 75x75 to 100x100 mm. It supports both landscape and portrait screen orientation. The weight capacity is 2-8 kg.
🔹 PRACTICALITY: The monitor stand / monitor arm G50-B swivels 180° and rotates 360°, providing you with the flexibility to move your screens and organize your workspace. The cable management system of the monitor mount for 1 monitor allows you to hide cables and maintain a tidy workspace.
🔹 ADJUSTABILITY: The height of the arm for the monitors is adjustable from 193 mm to 435 mm. The tilt angle ranges from +45° to -90°, and the distance from the base can be adjusted up to 525 mm. These features allow you to position the screens comfortably to protect your eyes and back. No additional tools are required for monitor mounting or screen stand.
🔹 EASY INSTALLATION: All necessary mounting tools are included in the package for the screen mount / monitor holder. It can be mounted either on the edge of the table or through a hole in the table. The recommended table thickness is 10-50 mm.
🔹 QUALITY: The monitor arm features a well-thought-out design in black and high-quality components, including the VESA mount / table mount for monitor with protective inserts and a gas spring system capable of enduring up to 50,000 load cycles. Enjoy a 5-year warranty for your peace of mind.
SHIPPING POLICY
Standard and express delivery is available, the cost is calculated automatically upon specifying the address in the shopping cart.
Standard delivery: 2 - 4 business days
Express delivery: 1 - 2 business days
Pickup is free of charge, usually ready in 24 hours.
Price is calculated separately for bulk orders.
You can address any queries by email 
support@onkron.co.uk