ONKRON Tilting Mobile TV Stand for 50" – 83" up to 70 kg Inch LCD LED OLED TV Screens & Touch Panels Rolling TV Cart on Wheels with Shelf TS1380 Black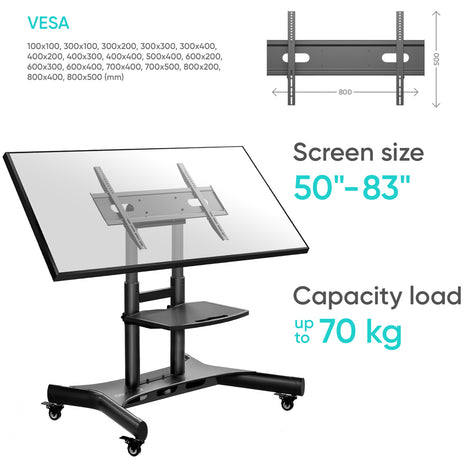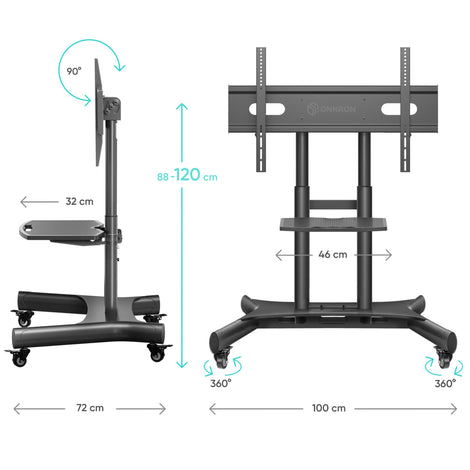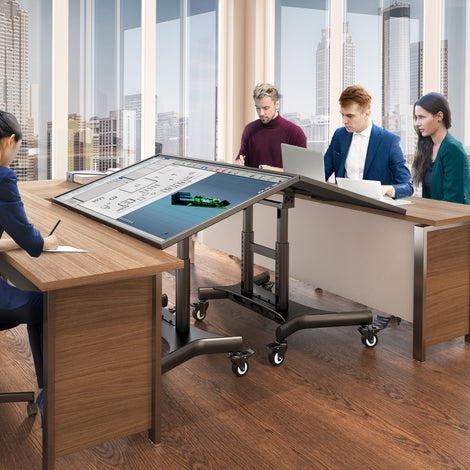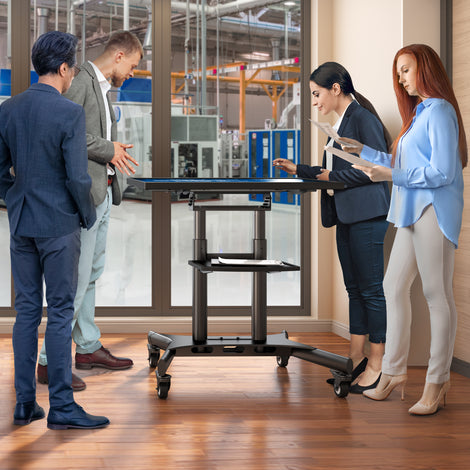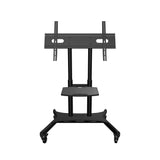 ONKRON Tilting Mobile TV Stand for 50" – 83" up to 70 kg Inch LCD LED OLED TV Screens & Touch Panels Rolling TV Cart on Wheels with Shelf TS1380 Black
For business
We have a special offer if you are interested in buying TS1380-BLK wholesale. Just send form.
CUSTOMIZE IT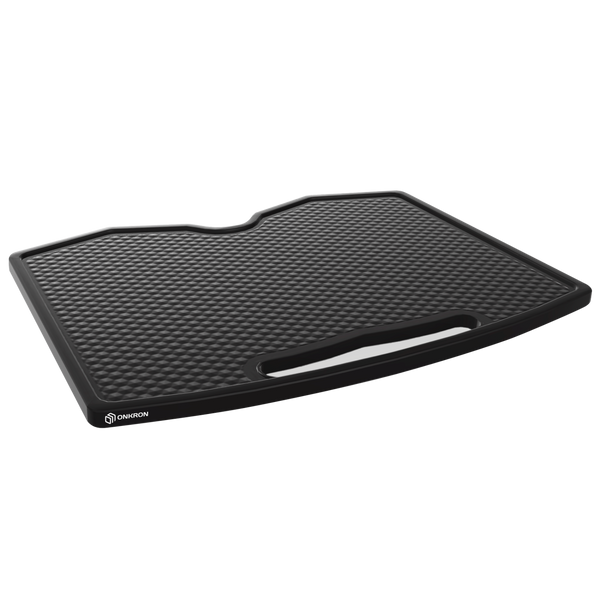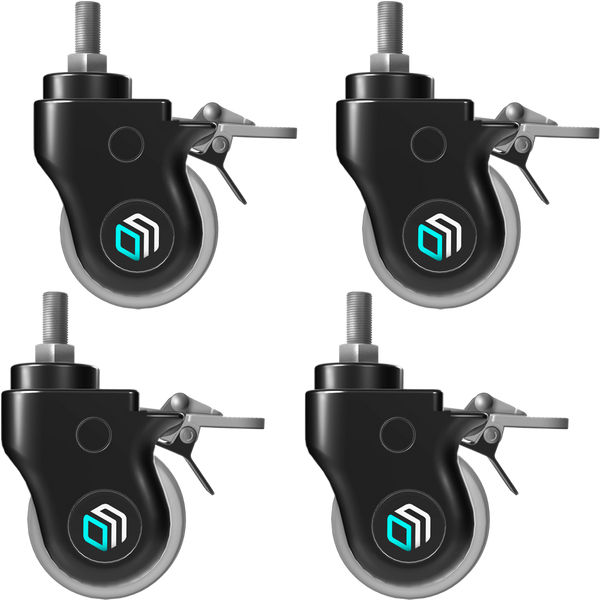 About ONKRON TS1380 Black
VESA
300x100 - 800x500
Max Load
70 kg.
Material
Steel, plastic
Diagonal
50" - 83"
ONKRON's tilting TV stand TS1380 is a 90° reverse tilting mobile TV stand for TVs and interactive panels from 50" to 83" in diagonal and weighing up to 70 kg. You can move the stand to any convenient place and choose the optimal viewing position.
A unique feature of the TS1380 is the ability to tilt the screen up to 90° (parallel to the floor). Therefore, the TS1380 stand is ideal for professional touch screens such as Microsoft Surface Hub and its equivalents. TS1380 is an ideal solution for offices, museums, exhibition halls or art galleries. The elegant look of the stand allows you to fit it not only into any public space, but also into the interior of a spacious living room.
Imagine the possibilities! First, our portable cart eliminates the cost and uncertainty of permanent wall installation. The TS1380 is great for spot on marketing, information sharing, streaming, telecommuting, hotel work stations, gaming and entertainment, designed for virtually any room in the house, in apartment rentals, converted garages, and game rooms. Conduct your next Super Bowl party on your patio. Relax after a busy day or even share your memories while entertaining company.
Universal bracket with tilting mechanism
Mounting panel supports TVs measuring 50 - 83 inches diagonally and the following VESA configurations: 300x100, 300x200, 300x300, 300x400, 400x200, 400x300, 400x400, 500x400, 600x200, 600x300, 600x400, 700x400, 700x500, 800x200, 800x400, 800x500 mm.
This model is perfect not only for TVs, but also for interactive touch screen panels such as Microsoft Surface Hub and its equivalents, because it can be tilted up to 90 degrees (parallel to the floor).
Height adjustable columns
Telescopic columns designed to lower or raise your TV screen without any tools. No need to take the TV off the mount. Available height adjustment range is from 34.6" up to 47.2 inches off the floor to the center of the VESA panel in 2-inch increments.
Strong and durable frame is made of SPCC steel and can easily hold TV sets weighing up to 70 kg. This cart has undergone a triple load test - it is safe and sound.
AV shelf for accessories
Comes with a height-adjustable shelf with a load capacity of up to 10 lbs for audio video equipment, receivers, gaming accessories or laptops.
Built-in cable management
Safely hide TV, HDMI, camera, notebook, Xbox cables and wires inside the telescopic columns and enjoy the comfort!
Lockable wheels
High quality rubber caster wheels: lockable, won't scratch the floor, and rolls easily across smooth surfaces. Wheels are easily locked, preventing the stand from accidental moving for maximum safety.
Standard wheel diameter is 3 inches; however, 4 inch diameter wheels
AWL100 can be purchased separately
Quick and easy installation
Easy to assemble or disassemble. Comes with a detailed manual and all needed hardware, including 3 sets of most popular bolts for mounting the TV.
Video for TS1380 Black
Compare ONKRON TS1380 Black with other products
TS5550-BLK

TS1350-BLK
TS1380-BLK

TS1551-BLK

TS1551-BLUE

TS1551-RED

TV Size

32" - 65"

32" - 70"

50" - 83"

40" - 70"

40" - 70"

40" - 70"

Max TV weight

30 kg

45 kg

70 kg

45 kg

45 kg

45 kg

VESA

100 x 100 mm
600 x 400 mm

100 x 100 mm
600 x 400 mm

300 x 100 mm
800 x 500 mm

200 x 200 mm
600 x 400 mm

200 x 200 mm




600 x 400 mm

200 x 200 mm




600 x 400 mm

Reverse
Tilting

🚫
✅

✅

🚫

🚫

🚫

Material

Carbon Steel,
Tempered Glass

SPCC Steel

SPCC Steel

SPCC Steel

SPCC Steel

SPCC Steel
TS1380 manual and data sheet
SHIPPING POLICY
Standard and express delivery is available, the cost is calculated automatically upon specifying the address in the shopping cart.
Standard delivery: 2 - 4 business days
Express delivery: 1 - 2 business days
Pickup is free of charge, usually ready in 24 hours.
Price is calculated separately for bulk orders.
You can address any queries by email 
support@onkron.co.uk