ONKRON Freestanding Rolling Mobile Video Wall Stand for 4 Screens 40"-55" up to 40x4 kg FSPRO2L-22 Silver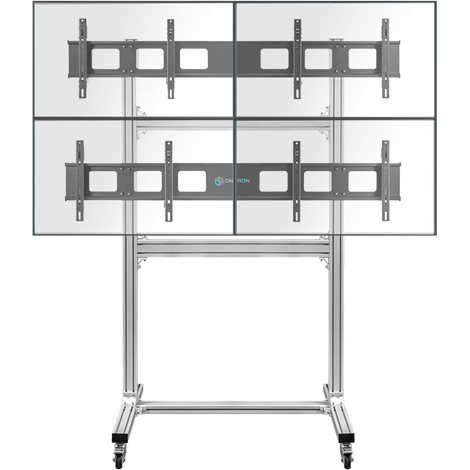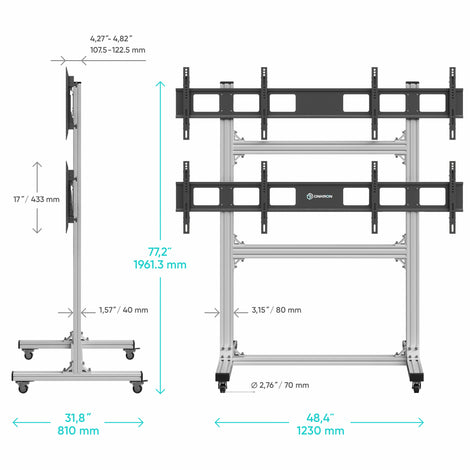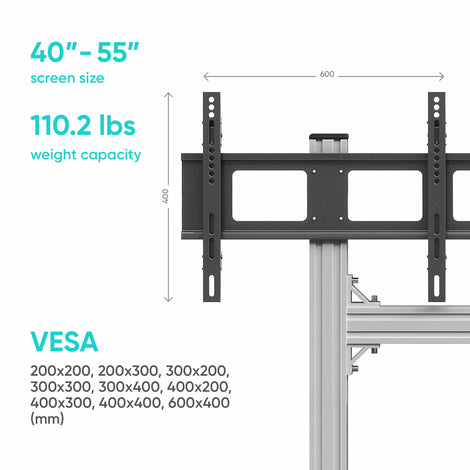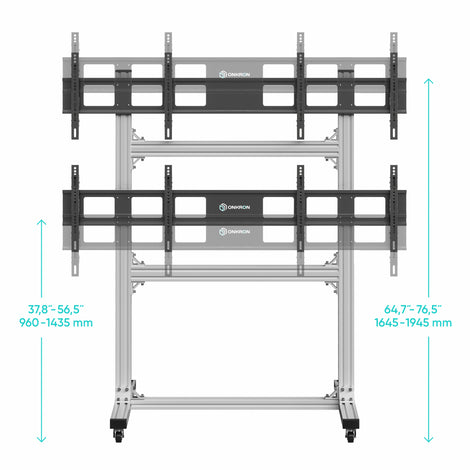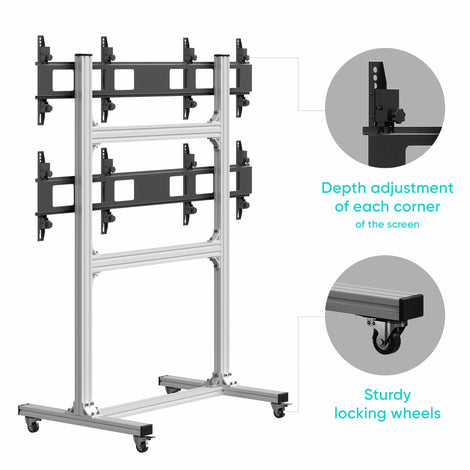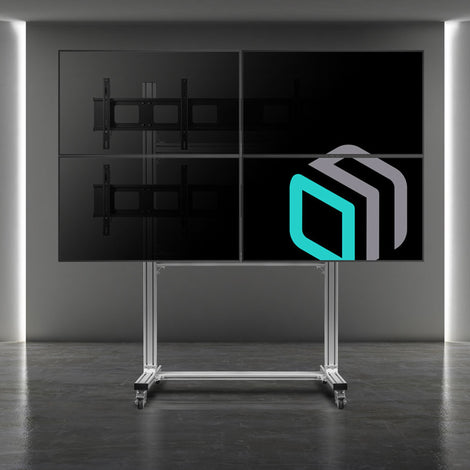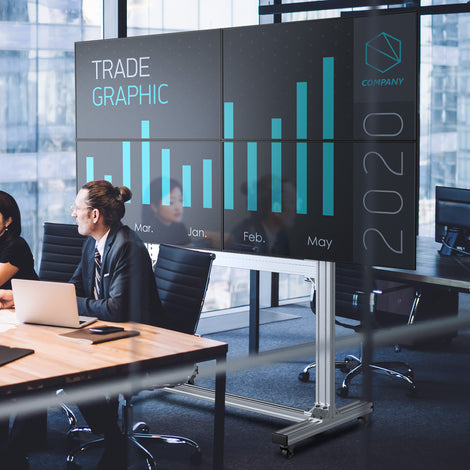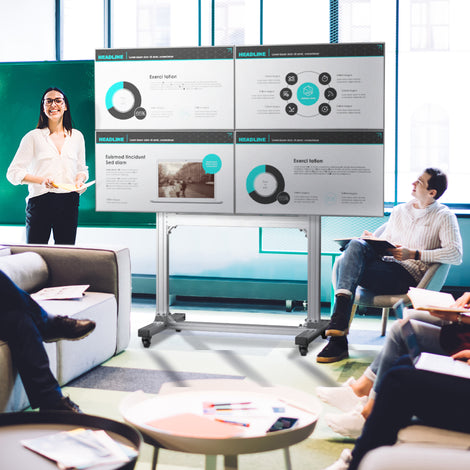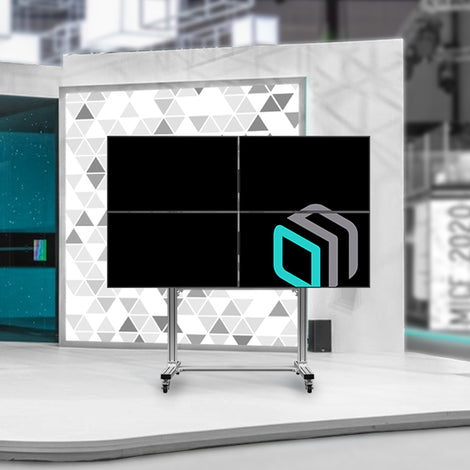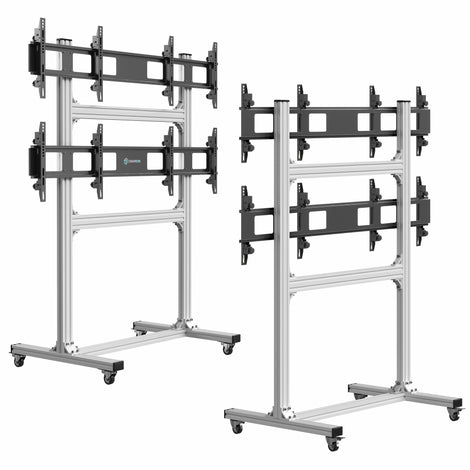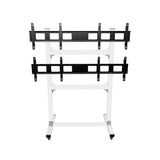 ONKRON Freestanding Rolling Mobile Video Wall Stand for 4 Screens 40"-55" up to 40x4 kg FSPRO2L-22 Silver
For business
10-20
£2,699.99 £2,510.99
20-30
£2,699.99 £2,294.99
30-70
£2,699.99 £2,159.99
70-100
£2,699.99 £2,024.99
We have a special offer if you are interested in buying FSPRO2L-22 wholesale. Just send form.

About ONKRON FSPRO2L-22 Silver
VESA
200x200 - 600x400
Max Load
40x4 kg
Material
Steel, plastic
Diagonal
40" - 55"
Students, teachers, and business professionals are now having to diversify their operations like never before. Distance education and remote work are becoming increasingly popular. ONKRON has many innovative solutions for mounting TVs and computer monitors ideal for your home or office, backed by over ten years of experience in manufacturing and worldwide distribution.

The FSPRO2L-22 is a 4-screen freestanding mobile video wall solution for compatible with most 40 to 55 inch television models and digital panels each one weighing up to 50 kg. This mobile video wall is compatible with the following VESA standards: 200x200, 300x100, 400x200, 200x300, 300x200, 300x300, 300x400, 400x300, 400x400, 500x400, 600x200, 600x300 and up to 600x400 mm.
The FSPRO2L-22 has a heavy-duty aluminum frame with height-adjustable TV mount brackets, a steady base with four lockable caster wheels. Applications: Mounting four screens on a portable cart is a smart and easy solution for business, conference rooms and boardrooms, classrooms, professional, non-profits and community organizations, expos, educational and entertainment venues.

Our portable stands are indispensable for spot on marketing, information sharing, streaming, telecommuting, videoconferencing, zooming, teleconferencing. Our carts are also a modern solution for hotel work stations, gaming, home entertainment, distance learning, videoconferencing. The FSPRO2L-22 is handy where you need it – inside or outside the house, in rental apartments, converted garages, game rooms, classrooms, and home or office spaces. Even car and airplane mechanics appreciate the convenience in their workshops.

ONKRON - Trusted design - excellent support.
Universal VESA mount
Supports four 40" to 55-inch displays. Fits practically all modern screens - LCD, LED, OLED, Ultra HD, plasma, curved and flat panel screens with the following VESA mounting standards: 200x200, 300x100, 400x200, 200x300, 300x200, 300x300, 300x400, 400x300, 400x400, 500x400, 600x200, 600x300 and up to 600x400 mm.
Wide adjustment capabilities and heavy-duty aluminum frame
One of the best features of this video wall stand is the fact that the depth of each corner of each screen can be adjusted using the fine-adjustment levers!

Strong and durable frame is made of aluminum and can easily hold up to 200 kg of combined weight (each screen no more than 50 kg).
Premium design
The cart is made of aluminum and painted a beautiful silver color - your mobile video wall or digital signage setups will be nice to look at!
Easy assembly
This stand is easy to assemble and disassemble which is especially useful for road shows, conferences, lectures, etc.
Locking caster wheels
High quality wear-proof PVC caster wheels for smooth rolling anywhere without scratching the floor. Wheels are easily locked, preventing the stand from accidental movement for maximum safety.
Upgrade the caster wheels!
Upgraded heavy-duty caster wheels AWL75 can be purchased separately to be used with this video wall stand, enhancing its mobility features.
SHIPPING POLICY
Standard and express delivery is available, the cost is calculated automatically upon specifying the address in the shopping cart.
Standard delivery: 2 - 4 business days
Express delivery: 1 - 2 business days
Pickup is free of charge, usually ready in 24 hours.
Price is calculated separately for bulk orders.
You can address any queries by email 
support@onkron.co.uk