ONKRON Dual Monitor Desk Mount Stand for 13 to 32-Inch LCD LED Monitors up to 9 kg G200 Silver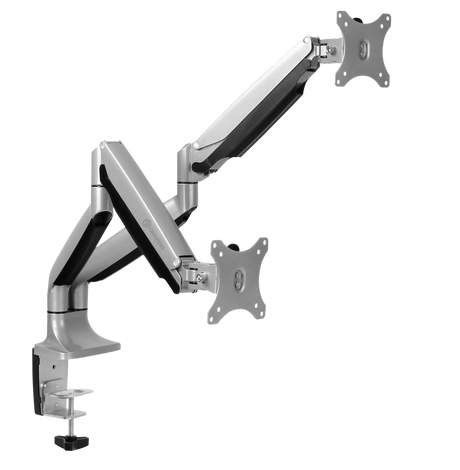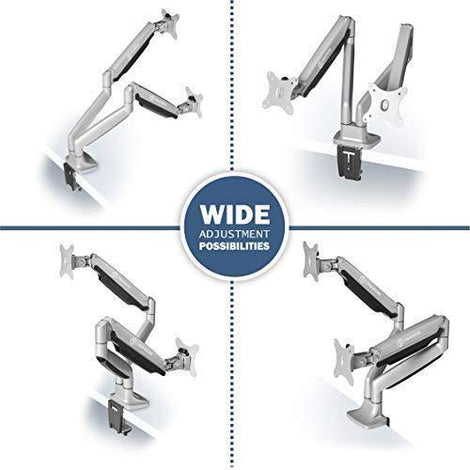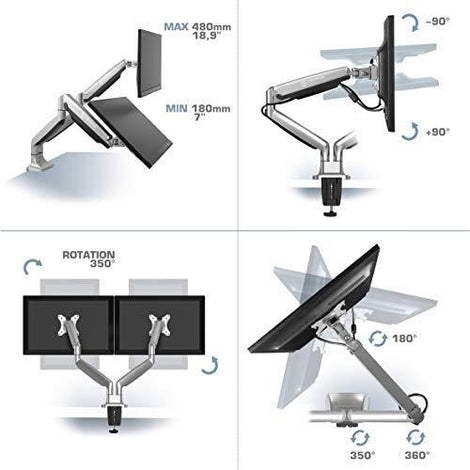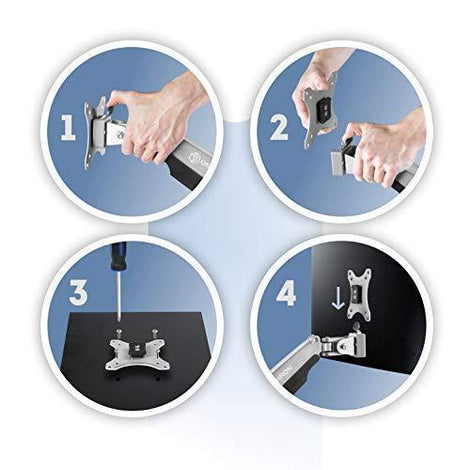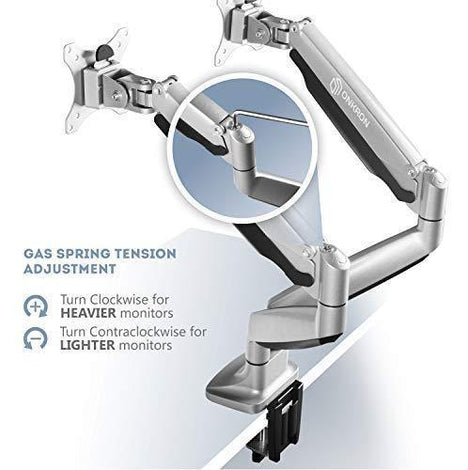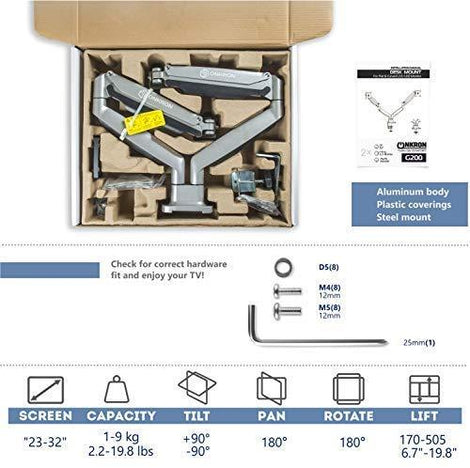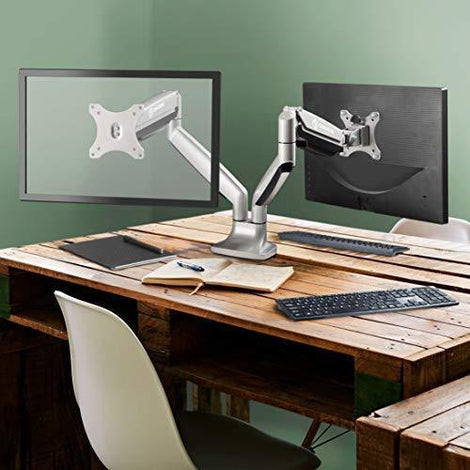 ONKRON Dual Monitor Desk Mount Stand for 13 to 32-Inch LCD LED Monitors up to 9 kg G200 Silver
For business
We have a special offer if you are interested in buying G200-SLV wholesale. Just send form.
CUSTOMIZE IT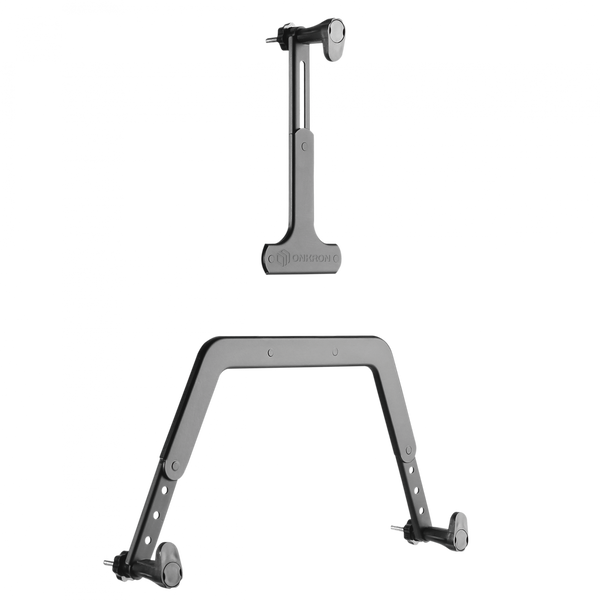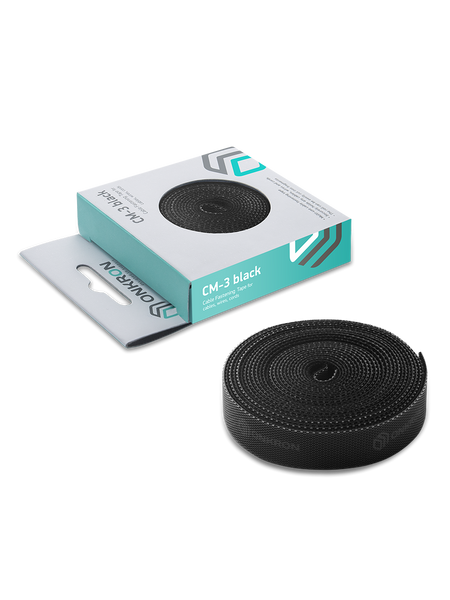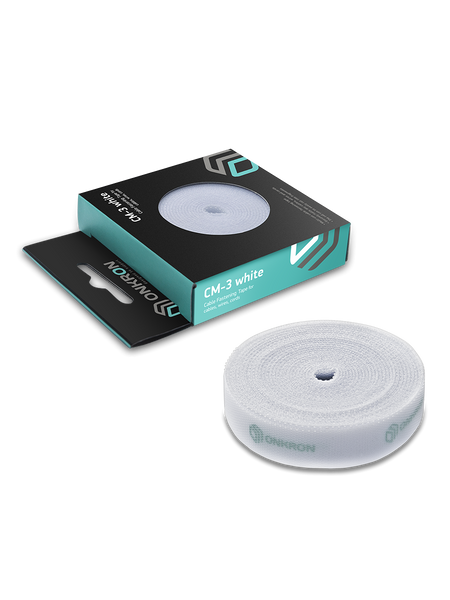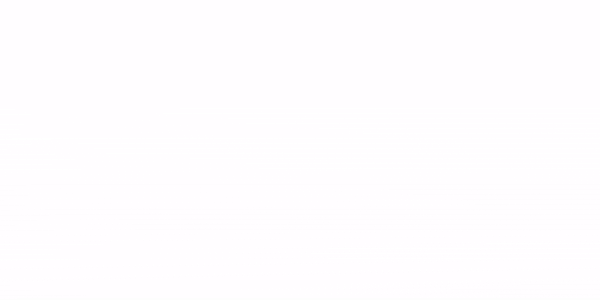 About G200 Silver Dual Monitor Mount
 

: 

New version of a popular desk mount is now available for two monitors. G200 by ONKRON is a universal dual desk mount that fits two monitors with diagonal 13" – 32 inches. Each articulating arm is capable for carrying weight from minimum 1 up to 9 kg. The model has detachable VESA plates that support VESA 75 x 75 mm and 100 x 100 mm. Detachable panels make screen mounting much easier.
G200 is fully adjustable dual desk mount, it features 180 deg monitor rotation, tilt +90 to -90 degrees and swivel from +90 to -90 degrees. Both arms are extendable up to 605 mm in length when needed.
It is a perfect solution for mounting two monitors at one table – both for working or entertainment, in the office or at home.
Keep all AV cables and power cords hidden and well-organized thanks to integrated cable management system of our G200 desk mount. This model has C-Clamp and grommet ways of installation on the desk you just choose the one you would like.

- Two screens 13 – 32 inches (each weighting 1 - 9 kg)
- VESA 75 x 75 mm and 100 x 100 mm (Detachable VESA plates)
- C-Clamp and grommet installation
- Cable management for an organized look of your working desk
- Detailed installation guide comes with the mount
Features : 
Dual desk mount fits most 13 to 32-inch LCD LED screens up to 9 kg with VESA 75 x 75 – 100 x 100
Use two monitors at once for higher level of productivity and maximum comfort
Dual monitor arms feature 180 degrees rotation, tilt angle +90 to -90 and swivel from +90 to -90
Two ways of installation on the desk – C-Clamp or grommet; all hardware and guides are included
Keep your power and AV cables clean and organized with our cable management system
SHIPPING POLICY
Standard and express delivery is available, the cost is calculated automatically upon specifying the address in the shopping cart.
Standard delivery: 2 - 4 business days
Express delivery: 1 - 2 business days
Pickup is free of charge, usually ready in 24 hours.
Price is calculated separately for bulk orders.
You can address any queries by email 
support@onkron.co.uk