ONKRON TV Wall Mount for 32-65" LED LCD Plasma Flat Screen Curved TVs up to 35 kg M4 White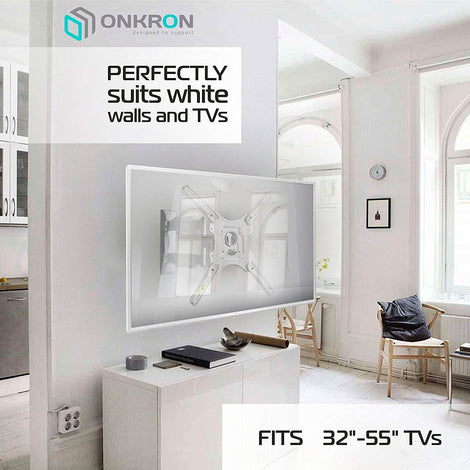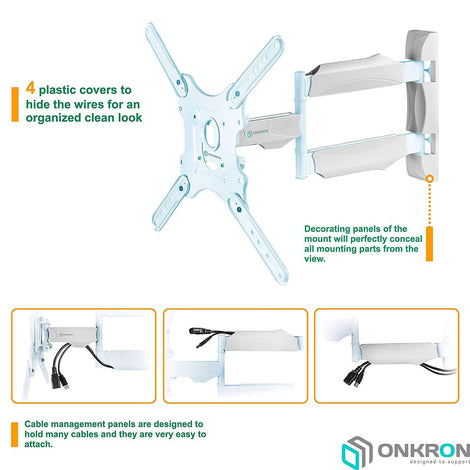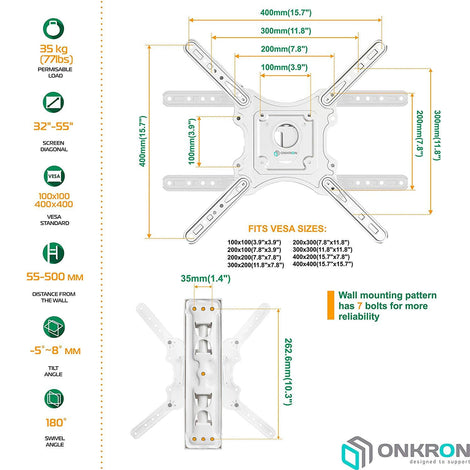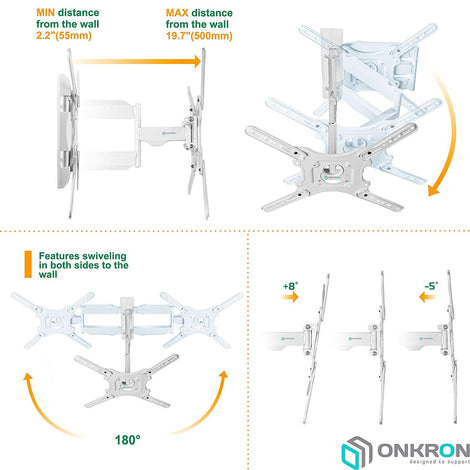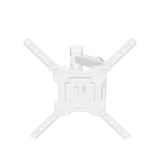 ONKRON TV Wall Mount for 32-65" LED LCD Plasma Flat Screen Curved TVs up to 35 kg M4 White
For business
We have a special offer if you are interested in buying M4-WHT wholesale. Just send form.
CUSTOMIZE IT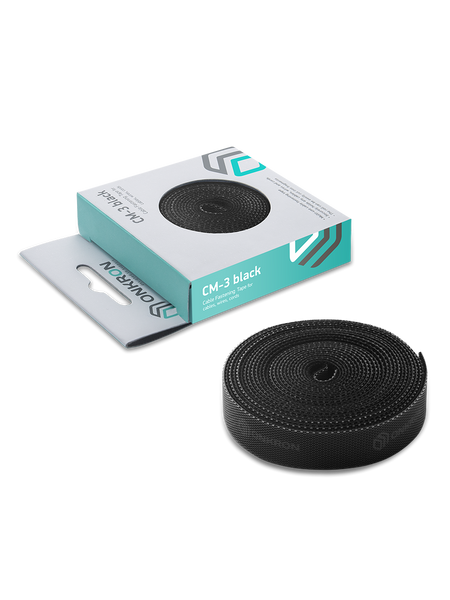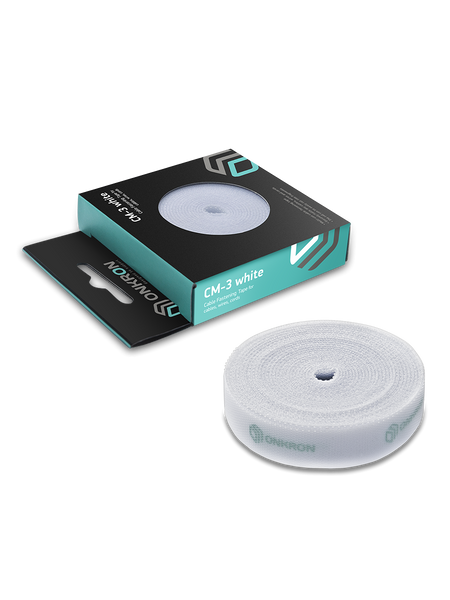 About ONKRON M4 White
VESA
100x100 - 400x400
Max Load
35 kg
Material
SPCC Steel
Diagonal
32" - 65"
ONKRON manufactures and distributes high-quality mounting solutions for TV screens, computer monitors and displays for over 10 years worldwide. Wall mounting is a classic solution for home and office, big and small businesses, conference rooms, boardrooms, classrooms. Our extensive product line includes TV wall mount models in beautiful modern white - indispensable for any interior style, elegant or contemporary. White wall mounts are perfect match for off-white, white or light-colored walls. Ultra slim design allows full arm extension and is fully retractable to hide the mount behind your television screen.

Full motion TV mount M4 combines design, quality, easy installation and affordability without compromises. It is universal and designed to fit most 32" – 65 inch Ultra HD LED LCD OLED QLED HDR 4K Flat Panel Smart TVs, curved screens, gaming monitors, displays with VESA hole patterns from 100 x 100 mm, 200 x 200 mm, 300 x 300 mm, 400 x 400 mm, 400 x 200 mm, 400 x 300 mm, 200 x 400 mm, 300 x 400 mm up to 400 x 400 mm.
Single armed ONKRON TV wall mount M4 in white is universal and was tested to support flat and curved screens of practically all brands of LED, LCD, OLED, HDTV, smart TV monitors and displays on today's market and is best fitted for screens with max load capacity of up to 35 kg. Foldable articulating arm, steel construction with high – quality powder coating, extendable up to 500 mm and easily retractable all the way back to the wall (55 mm slim profile). Cable management proven to be very popular design feature - removable plastic plates cover cables and wires for contemporary streamlined look. Comes with the instructions and all needed hardware – including set of M8*50 bolts, suitable for Samsung TVs and usually not found in standard mounting kits. ONKRON M4 series mounts provide secure support for large screens with swivel, tilt and wide range of easy motions. Our white version of M4 mount is a true winner for a viewer who appreciates style, quality and value.

ONKRON - designed to support.
Universal VESA Mount with Various Mounting Holes Patterns
Supports televisions with diagonal sizes from 32" up to 65 inches.

Fits practically all modern screens - LCD, LED, OLED, Ultra HD, plasma, curved and flat panel screens and televisions.

Compatible with VESA mounting patterns from 100 x 100 mm (min) to 400 x 400 mm (max) with wide variety in between.
Heavy-duty Steel Frame
M4 is made with SPCC steel and its strong and durable frame can easily hold TV sets weighting up to 77 lbs (35 kg). Our TV wall mount has undergone triple load test - it is safe and sound and will not bend even under maximum load of 35 kg.
Cable Management
Contemporary design features cable management – plastic plates cover cables and wires for clean organized look.
Ultra slim & Fully retractable
M4 is a fully retractable TV mount with ultra slim profile. Maximum distance from the wall - 500 mm, minimum distance merely 55 mm. Thanks to the ultra slim profile TV mount will be hidden behind your TV set.
Full Motion
M4 is fully adjustable, you can tilt your TV -5 deg ~ +8 deg, swivel 180 deg and set horizontal screen level from -4 deg to +4 deg. All these adjustments provide perfect viewing experience all the time.
Quick and Easy to Set up
Easy to assemble or disassemble. Comes with detailed instructions and all needed hardware – including set of M8*50 bolts, suitable for Samsung TVs and usually not found in standard mounting kits.
Assembly M4
SHIPPING POLICY
Standard and express delivery is available, the cost is calculated automatically upon specifying the address in the shopping cart.
Standard delivery: 2 - 4 business days
Express delivery: 1 - 2 business days
Pickup is free of charge, usually ready in 24 hours.
Price is calculated separately for bulk orders.
You can address any queries by email 
support@onkron.co.uk